Enterprise kit ARCHIVE
The Enterprise kit brings the ultimate ultra-wideband RTLS solution in a single package. The kit includes a dedicated plug and play industrial positioning server, 6 Enterprise anchors (with mounting brackets), and 6 Tags to let you fully explore accurate positioning.
In stock: shipped in 3-4 weeks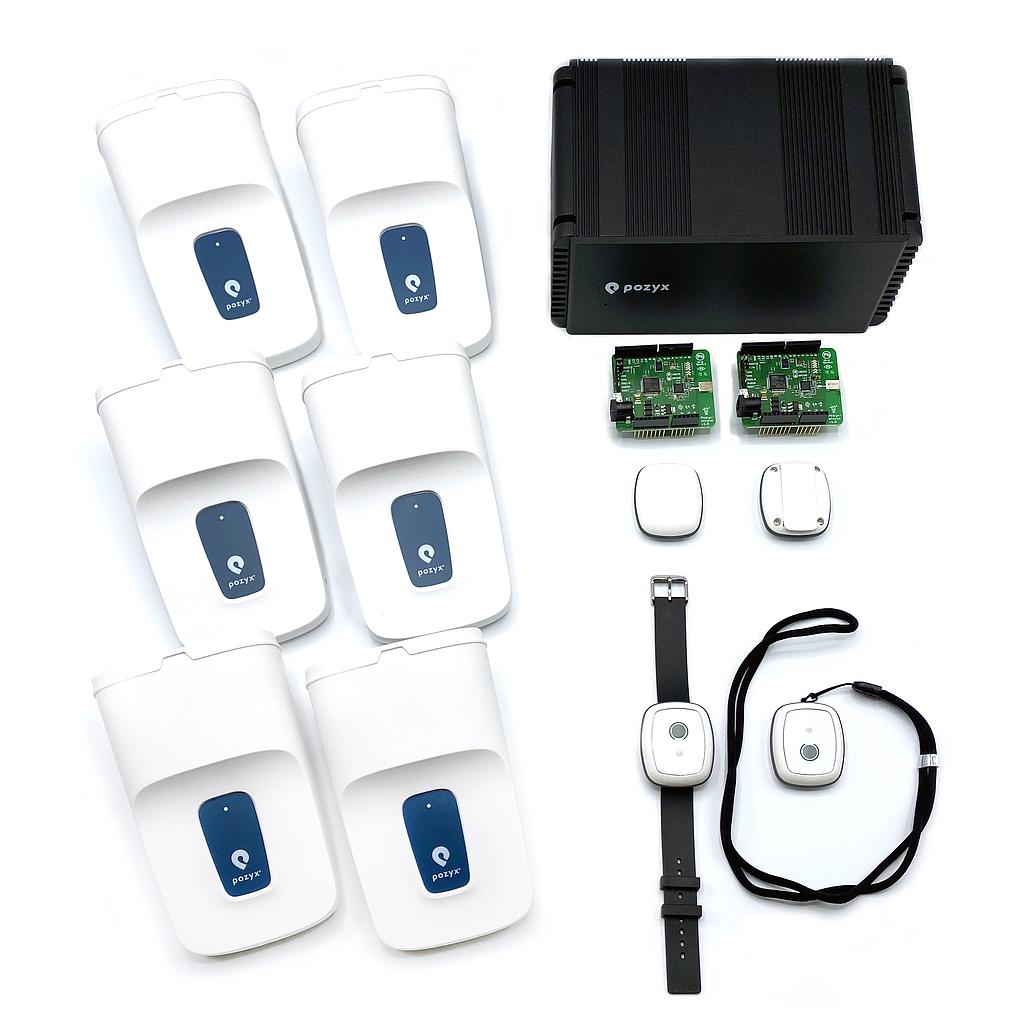 Features
Everything to get started with the Pozyx Enterprise serie
Up to 10 cm accurate 2D or 3D positioning
Up to 1200 positions per second
Plug and play experience
Customize your tag behavior and data payloads
Power over Ethernet daisy chains
Manage your setup locally or in the cloud
Can be scaled up to an unlimited amount of tags and anchors
What's in it?
And more
6 x VESA mounting bracket
2 x Anchor power adapter
1 x NFC reader
1 x Basic Enterprise license
A 1-year Analytics license
General
The Enterprise kit offers everything required to get started with the Pozyx Enterprise series. The Enterprise series uses a wireless Time Difference of Arrival (TDOA) or Two Way Ranging (TWR) UWB protocol allowing you to process up to 1200 positions per second and an unlimited amount of anchors and tags to expand your setup.
10 cm accurate
Position tags in real-time with an accuracy that is 10-20 times better than conventional positioning systems using Bluetooth, GPS or Wi-Fi.
Plug and play
All the tools you need on both software and hardware level are included in this kit. Just plug in your anchors, start your server and start creating your RTLS applications.
Scale up
This kit can be scaled up to an unlimited amount of tags and anchors. Scale your projects up without limitations.
NOTE: This kit does NOT include Ethernet/UTP cables to connect the anchors to the positioning server (or other anchors in daisy chain) as every setup requires different lengths. Any standard CAT5E (or better) cable with AWG 24 or thicker and RJ45 connector will work for a technology validation.
Setup
When you receive your Enterprise kit, all you need to do is mount your anchors to walls or ceiling with the included VESA mounting brackets and power up the positioning server. Then you connect your anchors via standard Ethernet cables to your positioning server in multiple daisy chains of up to 8 anchors. Anchors can be power with a DC jack, with PoE (IEEE 802.3af) or PoE+ (IEEE 802.3at). At this point you can simply log in to the Pozyx setup application software from any device or browser and configure your setup. Your anchors and tags will automatically be detected. Our real-time visualization will show you where your tags are and our easy MQTT API will provide a steady stream (local or on the Pozyx cloud) of XYZ coordinates and sensor data for each tag.
From our cloud software you can apply advanced filters and algorithms to optimize your positioning output to the movement pattern of your particular use-case and tags. We provide you with a simple but powerful visual interface that gives you tools to configure filters per tag, add an accurate floor plan to the visualization, set position based triggers in the API for geofencing and much more.
When you want to expand with smaller low-power tags or custom tags, contact our sales team with your specific tag, battery and casing needs and together we will configure the mini-tag suited for your case.